For those looking to have a quiet Halloween with their family, there are plenty of options to create a special and memorable experience. While Halloween is often associated with excitement and spookiness, it's possible to enjoy a more peaceful celebration. At Lady's Mile Holiday Park, you can embrace the spirit of Halloween in a calm and cosy atmosphere.
Here are some family-friendly Halloween crafts and recipes that can be enjoyed in a relaxed setting. These activities provide a delightful alternative, allowing you to enjoy the holiday without the hustle and bustle typically associated with it. So, gather your loved ones, prepare for a tranquil holiday, and explore these wonderful ideas.
It's up to us as adults to make sure we devise a special Halloween for them. They can still get dressed up and there are heaps of creative and spooky things for them to do and eat. From simple, yet effective paper ghoulies to a haunted house grand designs (cardboard edition). From Halloween pizza to something that looks a bit gross in a bowl. At Lady's Mile here are some of our top picks for family friendly Halloween crafts and recipes. These are extras, because it goes without saying that pumpkin carving is always top of the list.
Paper Bat or Ghost Garlands
We'll be honest here; these are more cute than scary.
For a bat garland, all you need is some black paper, string, a bat stencil (simply Google bat stencil), scissors, and a hole punch. Draw round the bat stencil as many times as you like, cut out the individual bats, punch a hole, and string them up around the house. Quick and fun Halloween decorations. For a ghost garland, it's the same process, but with a ghost stencil. Kids will love this because it's straightforward and has instant results.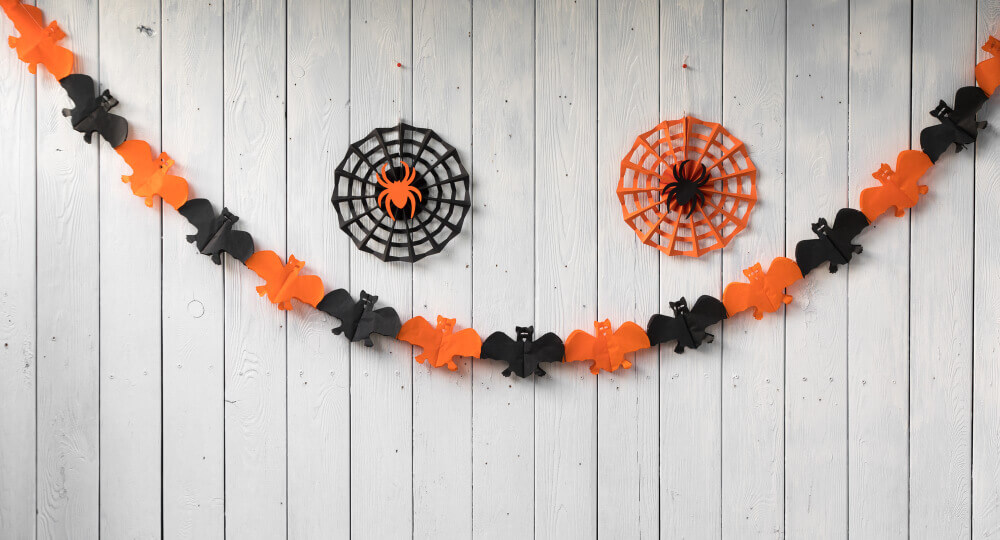 Spider Web Wreaths
This is a step up in difficulty from the garlands above and requires vague origami skills. However, the finished product is brilliant. Take two sheets of black paper, and fold each like you're making a paper fan (concertina). The folds should be around 1.5". Then diagonally cut the top of the fold, creating a pointed end, and cut three rectangles out of each segment half an inch apart.  Finally tie both pieces of paper together at their centre folds and glue between the edges of the web. If all has gone according to plan you should have a creepy spider web to hang from your window. Now all you need is a rubber spider.
Cardboard Haunted House
This is a free form project and a good way to recycle old cardboard boxes. How big, crookedly shaped, or gothic you make your haunted house is up to you. We suggest going for the classic turreted house, perhaps leaning to one side with a leafless cardboard tree in the garden. You can use paints to make it look great. Yellow and orange give the impression of light radiating from the windows and silvery grey works well for roof slates. As a project this is more than just a bit of fun. Working out the dimensions of the walls and features requires practical thinking which is a useful skill for children to have.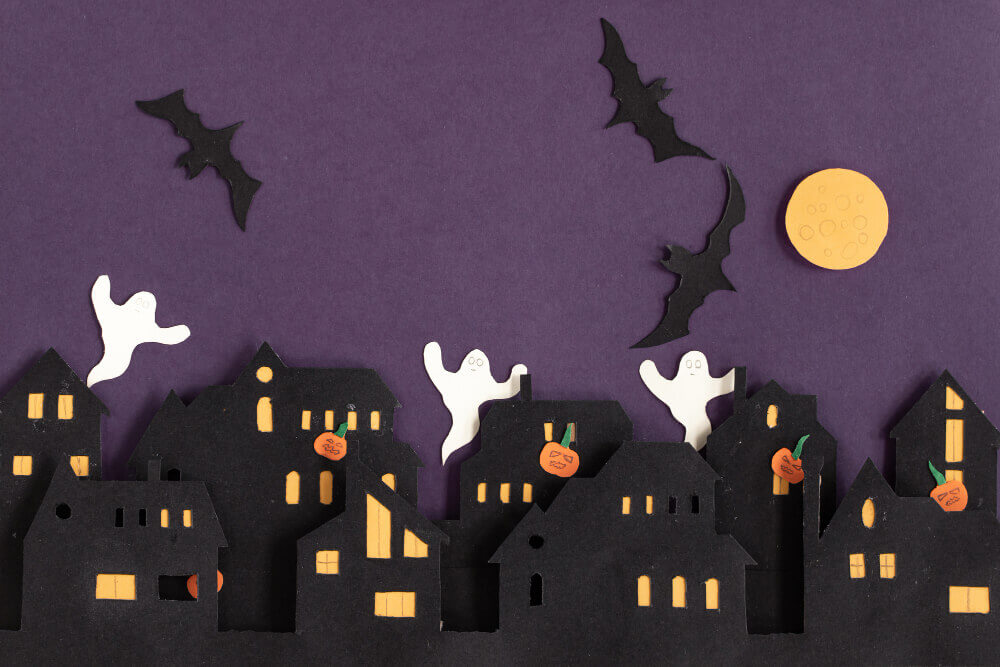 Melted Crayon Pumpkins
Perhaps the easiest craft on this list. This involves gently meting old crayons with a hair dryer and pouring them over pumpkins, or the various odd squashes available in autumn. Sometimes Halloween can be dominated by black, orange, and the crimson of fake blood. With your rainbow squashes you'll be bringing a wave of colour kids will appreciate. It doesn't have to all be sinister and dark, eh?
Wholesome & Scary Halloween Pizzas
There's nothing more satisfying for a parent than a healthy meal, but one which the kids find delicious. Even better if it has a spider in the middle and all the scary excitement of Halloween. Win, win, and win. Cue, Halloween spider pizzas. The dough for these is half and half (white and wholemeal) and you can top them with peppers, courgette, sweetcorn, or meat (or all of it)—whatever you fancy. The caveat is that in the centre of each you must arrange an olive spider. A whole olive for the body and strips for the legs. Eeeek! A fantastic Halloween Craft and Recipe in one!
For the full recipe visit BBC Good Food.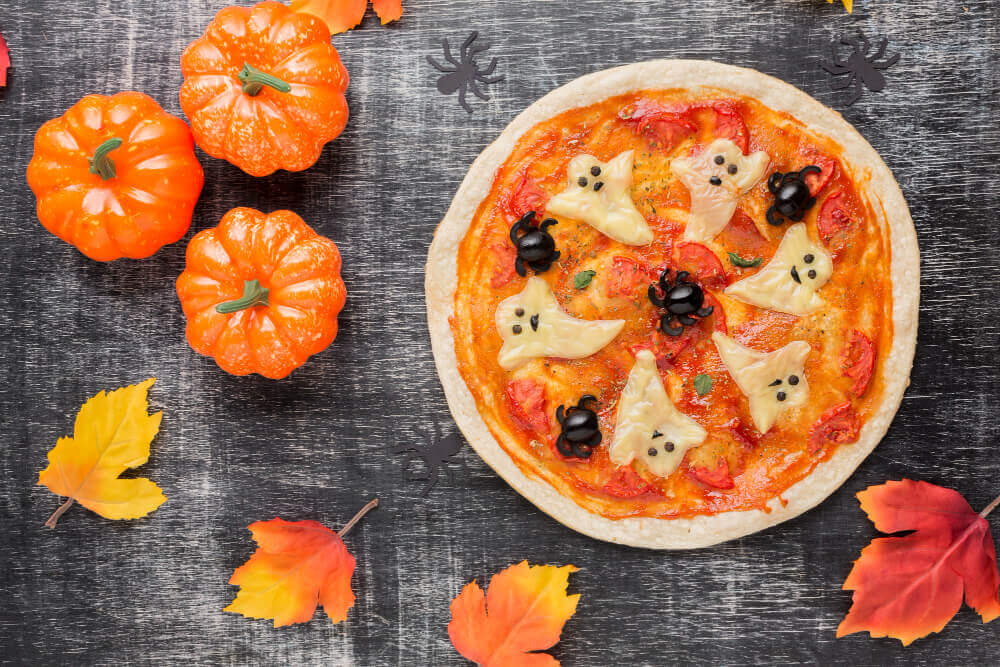 Jack O' Lantern Stuffed Peppers
Whoever thought of these had a stroke of genius. When you think about it, peppers look a bit like pumpkins, so therefore, why shouldn't you carve grinning faces into them? More edgy than serving them in a salad. Much like a pumpkin, horizontally slice the top off a pepper and hollow out the seeds and white pith with a spoon. Then carve a suitably macabre leer into its frontage. Lastly, fill your pepper up with bolognaise or a veggie nut roast, top with cheese, and pop the top back on. Now bake until the pepper is tender. A delicious Halloween Craft and Recipe to satisfy all ages.
Decorate Your Own Spooky Biscuits
Children adore being artistic and munching on biscuits. So decorating Halloween biscuits is a no brainer. For this you'll need a simple shortbread recipe, food colourings, icing sugar, piping bags and nozzles, and cocktail sticks.
We recommend giving round biscuits a black or white iced base the kids can work from and printing a few ideas from the internet to help. These could include, but are not limited to; bats, spiders, vampires, werewolves, ghosts, black cats arching in graveyards, and disembodied eyeballs. Cocktail sticks dipped into runny icing are perfect for getting the terrifying details.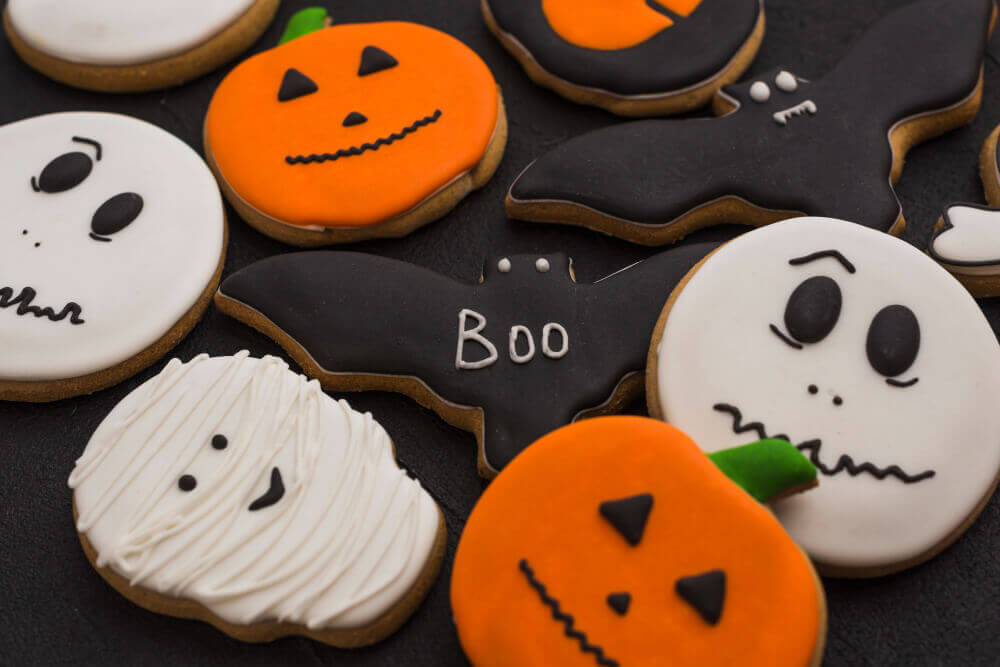 Yukky Bug Slime Jelly Cups
There must be at least one unpleasant looking Halloween food. These jelly bug cups are that. Amazingly simple to make too. All you need is a few packs of bug sweets and some green liquid jelly. You know the rest.
Kids will go giddy with glee slurping "slime" and bugs. Can you blame them though? What a wonderful age, where the best part of the day is being totally grossed out. The perfect combination of Halloween Crafts and Recipes!
Half Term Holiday at Lady's Mile
Summer may be over, but the beauty of the South West is everlasting. Why not take a break from the stresses of the everyday and pay a visit to the relaxing South Devon coast? Just you, your nearest and dearest, and quiet beaches. Think cosy nights in playing games, wonderful comfort food, and refreshing time spent in the great outdoors.
Click here to find out more.
See more of our blog posts here.