Red roses, white fluffy bears holding love hearts, personalised jewellery, a box of chocolates, petrol station flowers…there are some romantic clichés that get overdone each year. Especially around Valentine's Day.
We all have our own romantic preferences, but objects and chocolate don't evoke romance like places do. And not all places are equally romantic.
Down here in Devon we're very lucky. There's not a single field, a stretch of open moor, dappled country lane or stretch of coast that isn't romantic. Devon is a perfect blend of idyllic villages nestled amongst lulling hills and intense, wild spaces.
Looking upon the Devon scenery fills you with a sense of freedom, peace, and adventure. Feelings to be shared with your partner and which fuel the fires of romance. Here are some of the most romantic places to visit in South Devon to get you started.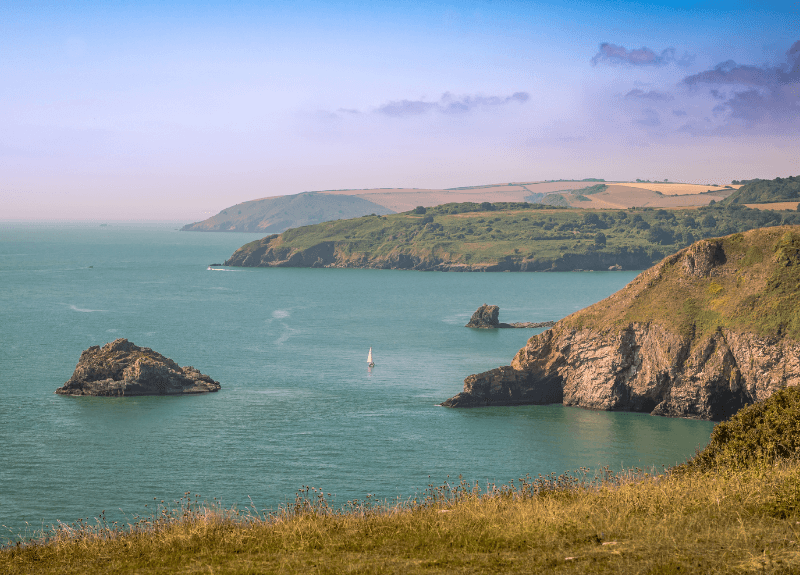 Where should you stay on your romantic break in Devon?
For a truly memorable and romantic getaway, Lady's Mile Holiday Park and its quieter sister park, Oakcliff Holiday Park, offer idyllic retreats that are sure to captivate couples seeking tranquillity and intimacy. Nestled amidst picturesque landscapes, both parks provide an unparalleled setting for romance to flourish. Lady's Mile Holiday Park presents a vibrant atmosphere, with a range of amenities such as swimming pools, entertainment venues, and restaurants, ensuring there's always something exciting to enjoy together. On the other hand, Oakcliff Holiday Park offers a more serene and secluded ambiance, perfect for couples craving privacy and peaceful moments. Surrounded by serene nature and boasting cozy accommodations, Oakcliff Holiday Park enables couples to unwind, reconnect, and bask in each other's company undisturbed. Whichever park you choose, both Lady's Mile and Oakcliff Holiday Park promise a romantic escapade where cherished memories are made amidst an enchanting backdrop, fostering love and deepening the bond between you and your partner.
Romantic Places to Visit in Devon
Berry Head, Brixham
There are few headlands in the country which offer such a spectacular view as Berry Head. Starting at the Berry Head Hotel, a shaded woodland track leads you up to an ancient Napoleonic fort. Passing the entrance to the fort, it's a straight walk to a lighthouse and the sheer cliffs beyond. Berry Head makes up the lower half of the "C" shaped Torbay and is a treeless, grassy expanse with full panoramic views across Torbay and round the coast to Dartmouth. There's nowhere better to gaze out into the endless blue and feel the fresh salt breeze on your face.
Do be careful though, because there's no safety barriers and the cliffs at Berry Head are a staggering 195m high. Not for those with a fear of heights.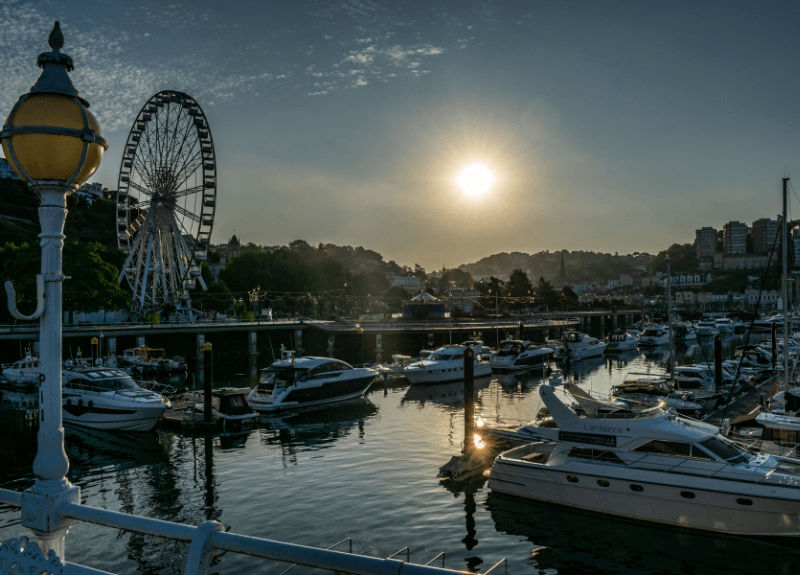 Torquay Seafront, English Riviera
Torquay is perhaps one the most famous staycation destinations in the UK. Even as far back as the 18th Century domestic tourists were making pilgrimages to the area.  By the end of the 19th Century Torquay was also one of the richest towns in the country, known for its mild, Med-like climate in summer, fine coast, and luxurious hospitality. It began to attract the good and the great, including hosting some world-renowned authors, such as Rudyard Kipling, Oscar Wild, and the greatest naturalist to have ever lived, Charles Darwin. No one can resist a good beach.
Throughout the 20th Century Torquay continued to thrive, even holding its own against European package holidays, which took off in the 60s. In the 80s it became affectionately known as "The English Riviera". The Mid Century, white hotels and swaying palm trees give Torquay a retro feel, which is wonderful. It may not be quite as popular as in the past, but there's an undeniable nostalgia and romance that radiates, from stepping back into the heyday of British staycations.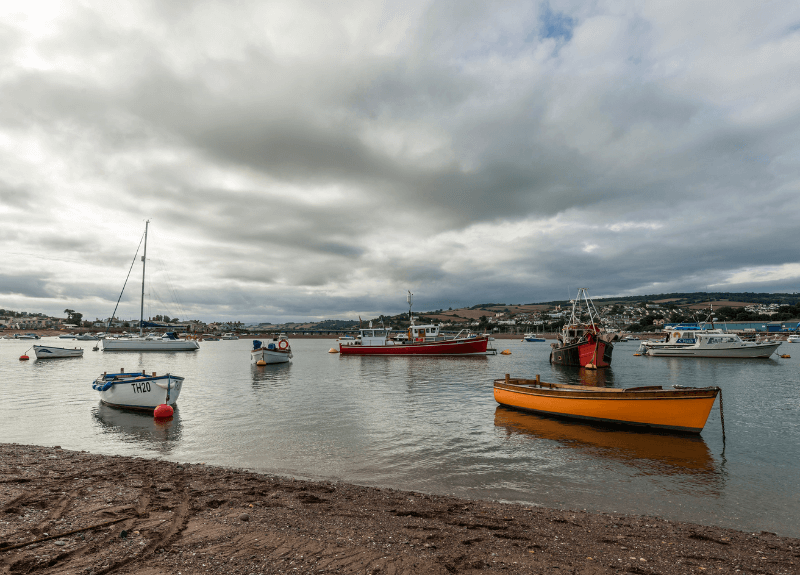 The Ness, Shaldon
Shaldon is a beautiful village on the Teign Estuary opposite Teignmouth. A place of pastel coloured town houses and cute cottages, with a sandy beach that spans the river front. It's lovely to pop yourself down in the beer garden of the Ferry Boat Inn and watch the ferry pootle back and forth between Shaldon and Teignmouth.
Above Shaldon is the Ness, a rugged sandstone headland crowned by a dense and verdant woodland. Amongst the shady bows are hidden two things: a tiny zoo, with a variety of rare animals and a secret tunnel. The air from this tunnel is damp, chill, and laced with notes of the sea. An authentic smuggler's tunnel, that wends its way down through the cliff and opens onto the magical Ness Beach. With the lush headland above, you could be in Never-Never Land. It's a picture-perfect place to spend an afternoon.
Hallsands & Start Point
This is an atmospheric place to visit in South Devon. Hallsands was once a bustling fishing village, but a great storm welled up and claimed it, dragging family homes unto the briny depths. What's left of the old Hallsands village can be seen from up on the cliffs. There's a collection of newer houses built since, standing precariously close to an eroding precipice.
Hallsands may not seem romantic, however, it has an end of the Earth feeling to it. Maybe it's the eerie ruined fisherman's cottages and quietness. Whatever the case, a contemplative experience is had, staring out into the vast openness of the English Channel with a reminder of how powerful the ocean can be.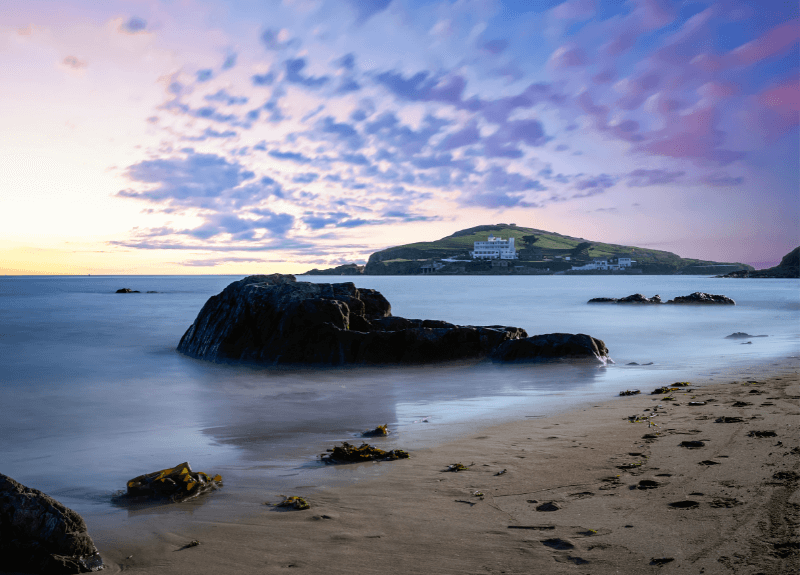 Burgh Island, Bigbury
This a gem in the crown of South Devon. Burgh Island is an iconic landmark adjoining Bigbury beach. At low tide, you can walk over the sand to the island and at high tide there's a sea tractor. Or you can wade. In the summer this is a fun thing to do because the water is warm and clear.
Sitting at the pub on Burgh Island and watching the tide lap up sandy footprints is a relaxing time. There's a footpath around the island too, providing a compact walk. The rough inlets that cut the island hide choppy waters, aquamarine in the midday sun, and wild grasses dance in the coastal winds. It's a little patch of paradise.
Devon is a special place, made for peaceful strolls, sunset BBQs, pints in the sun, and generally living the good life with your significant other. In Devon, romance is forever.
See more of our blogs here.