While Dawlish itself has plenty of things to do, the town offers many ways to see even more on your getaway!
Dawlish offers excellent travel links to places such as Exeter, Teignmouth, Newton Abbott and Torquay. So, whether you're a lover of local history, a seaside view-seeker, or a cave traverser, there's always somewhere great to go via Dawlish's public transport links.
The most common transport in Dawlish is the bus, which can take you to Exeter, Dawlish Town, Teignmouth and Newton Abbott. However, there are also excellent train links and exceptional ferry transport too!
Here are some great ways to get around in Dawlish and where they can take you:
Buses:
Dawlish offers excellent bus links to all the best tourist attractions and is the best way to get around! Starting at Lady's Mile, the closest stop is on Exeter road, just a 2-minute walk away. Walk straight up Week Lane, and when you see the main road, turn right to get to the closest bus stop to head towards Dawlish Town and Teignmouth. Alternatively, cross the road and turn left to find the bus stop which heads towards Exeter. Buses arrive within five to ten minutes and go between Exeter to Newton Abbott.
Buses in Dawlish can take you to the neighbouring seaside town Teignmouth, which offers a brilliant coastal view.
Teignmouth offers a star-striking town beach known for its red sand on the promenade. There's also a Dawlish Railway walking route which will take you through a plethora of stunning seaside views!
Bus links can also take you to Newton Abbot, a market town surrounded by the great South Devon countryside. To get to Newton Abbot, ride the bus on the same side of the road you entered for 1 hour until you get to 'Sherborne Road (Stop F),' and you will arrive in the town centre.
In Newton Abbot, you can visit the tranquil Stover Country Park (get the number 2 to Sherborne Road in Newton Abbot, and then the 39 towards Bovey Tracey alighting at the Trago Mills roundabout – about an hour and a half total), a nature reserve which is packed with jaw-dropping views and fantastic walks. If you're looking to surround yourself with some stunning nature, it's certainly a place you should visit. See directions here.
Alternatively, if you're looking for a quick way to get to Dawlish Town, ride the same bus from Exeter Road for 8 minutes to The Green to depart at the lovely town. From here, you can take the Dawlish Town Trail for a peaceful river walk with plenty of gift shops and beautiful black swans! It's also a speedy walk to the beach from the town centre.
If you're looking to take a day trip to the historic town of Exeter, take the bus stop from the other side of the road. The bus takes 45 minutes, and you can depart at a stop called 'The Pyramids' to exit into Exeter City Centre.
Exeter has plenty of attractions to see, such as its sublime Gothic Cathedral, which is unmissable! If you're an art or history lover, Exeter also offers the acclaimed Royal Albert Memorial Museum and Art Gallery.
See the timetable for the number 2 bus here. The closest stop to Lady's Mile on the timetable is Dawlish Sainsburys. See tickets information here.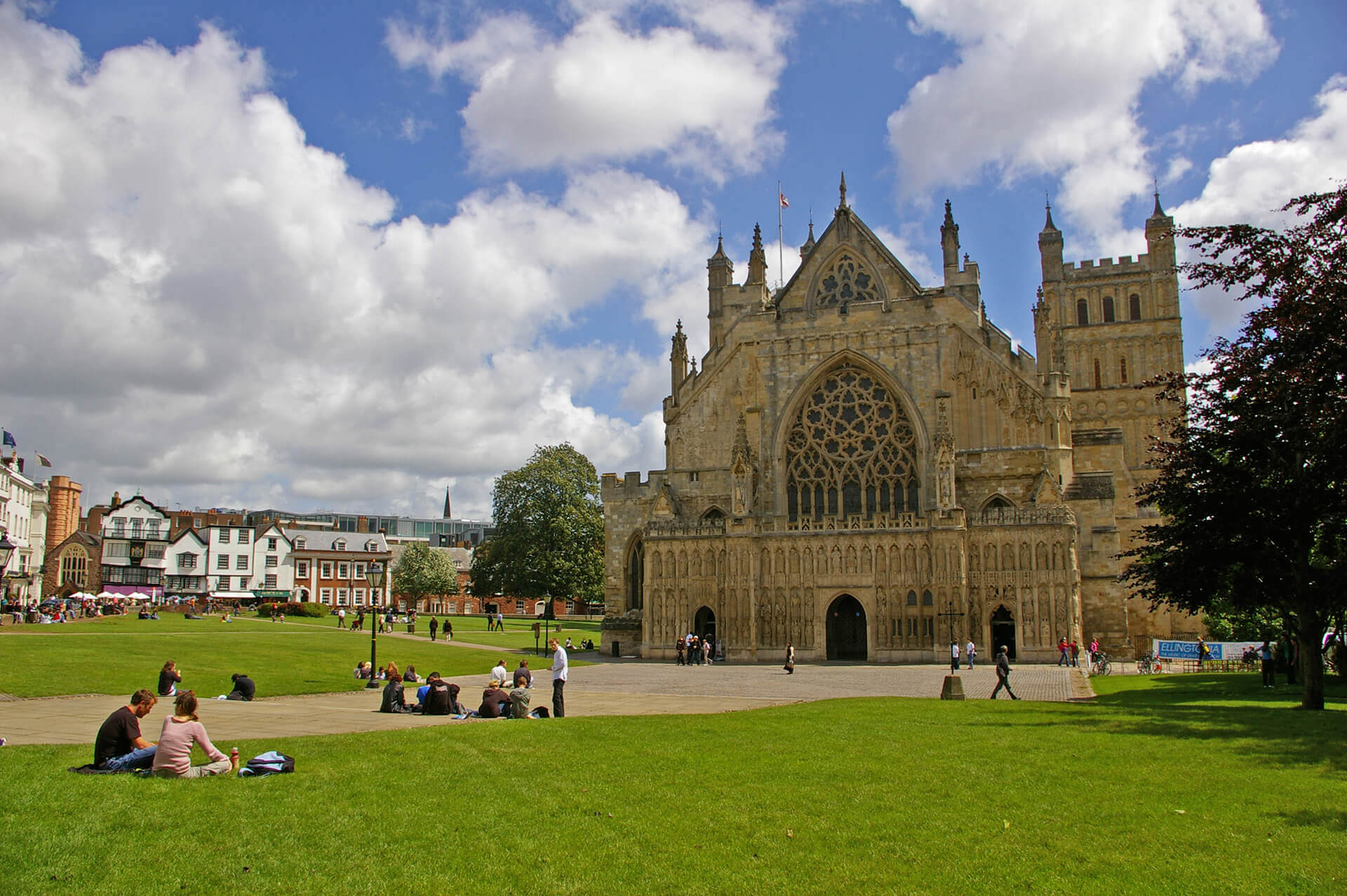 Trains:
Dawlish Warren is a train station which offers terrific transport links to Exeter, Newton Abbott, Torquay, and Paignton. To get there, take a right from Lady's Mile. Then, follow Week Lane to Mount Pleasant Road until you reach the roundabout. Once you've made it to the roundabout, turn right and head towards the bridge.
By turning left before the bridge, you can take a fast train to Exeter, which takes up to 20 minutes.
If you're looking to visit the thriving seaside of Torquay, with beautiful Victorian architecture and pristine sandy beaches, turn left after the bridge and enter the train station. The train takes just under 30 minutes and makes for a great day trip!
Torquay offers plenty of great things to do and sights to see. This includes Torre Abbey, which is only a 10-minute walk away from Torquay station. If you're a fan of traversing through underground caverns, Torquay also has Kents Cavern, an ancient cave network which offers tours and events for all of the family.
From the Torquay side of the train station, you can also visit Paignton. Here you can see great views and more of the splendid Devon seaside, as well as visit great family attractions such as the renowned Paignton Zoo and Splashdown Quaywest, a jam-packed water park which is great for the kids!
As well as visiting Torquay and Paignton, this side of the station also offers a quick 15-minute train to Newton Abbot.
Please keep in mind that there isn't a ticket office or a ticket machine at Dawlish Warren yet, so you'll need to purchase tickets on the train. See more information about the station here.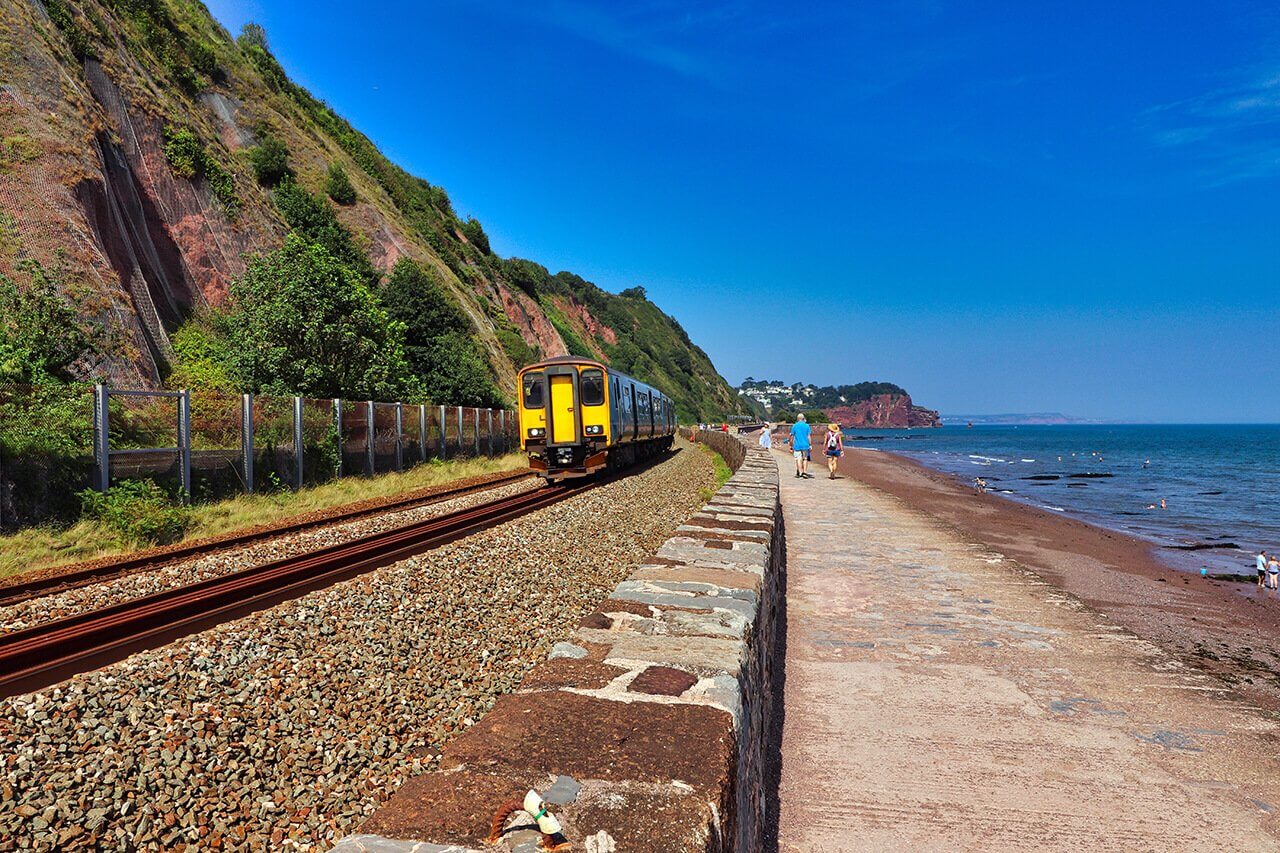 Ferrys:
 Nearby Dawlish, there is also an amazing selection of ferry rides which are a great way to get around!
Shaldon Ferry
After taking a bus to Teignmouth, you can take a ride on the historic Shaldon Ferry. This ferry boasts of being England's oldest passenger ferry and offers a daily service between Teignmouth and Shaldon.
Shaldon offers a great day out for the family. Known for its historical links with the fishing industry, Shaldon is a fantastic way to experience the authentic Devon life first-hand. Simply grab the bus from the Teignmouth side and get off at 'Seaview Diner.' From there, continue to walk down past the pier, over to the back beach (the river side of the point, not the sea side) until you reach the ferry. The ferry itself is a fantastic experience and only costs £2 per passenger! Please note that there are no return tickets, so you'll need to pay again on your return journey.
Please keep in mind that Shaldon Ferry is only available for foot traffic, and the running times depend on the tides. See more information about Shaldon Ferry on their website or Facebook page.

Starcross Ferry
The Shaldon Ferry is not the only nearby option that Dawlish has to offer. By taking the bus towards Exeter from Lady's Mile, you will arrive at Starcross. Starcross is a quaint waterside village and is a great place to visit for any train lovers. In the village, you can also check out the remains of one of Brunel's railway pumping stations. Starcross also boasts the Starcross to Exmouth Ferry.
Take the ferry from Starcross to Exmouth to experience Devon's oldest and most picturesque seaside town. In Exmouth, you can experience some stunning beach walks and take part in family activities such as water sports events which are open all year round! Sports include kite surfing, kayaking, and windsurfing. This makes Exmouth a fantastic place to visit for anyone who loves to get active and try new things!
See more information on the Starcross Ferry here.
Taxis:
We also have lots of local taxis that can help, if you have somewhere specific you need to be! The main taxis around are:
If you enjoyed our guide on how to get around Dawlish, you might like our other blogs. Find them here.