There's nowhere quite like Devon, for many reasons. For a start, it's arguably the prettiest county in England, with endless rolling hills, a ruffled blanket of green stretching to the horizon. Secondly, it has some of the finest coastline to be found anywhere in the world. This is no understatement. Here's our list of the top 10 beaches in Devon!
South Devon has been one of the UK's top holiday destinations since the days of top hats, corsets, and stiff promenade strolls. The mild, oceanic climate of the South West gives long tropic-like summers. Coupled with its superb beaches this gave rise to its other name—The English Riviera. And that it is.
There are lots and lots of beaches in South Devon—here are the best—to save you time on your South Devon adventure.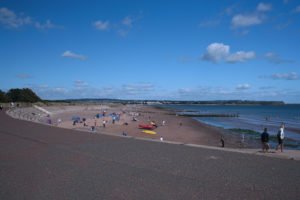 Dawlish Warren
This one's on our doorstep at Lady's Mile. Our local beach, and it's a good one. Half a mile of pure sand backed by dunes—with a blue flag award. There's also a 500-acre nature reserve, with rare plants and in autumn, wild fowl from the frozen north flock. They travel to the Exe estuary to enjoy the warmth and shelter. Much like the rest of us.
Dawlish Warren isn't just a beach. You'll find all sorts here, including a surf shop, cafés, penny arcade and a pub. It's a wonderful day out for everyone.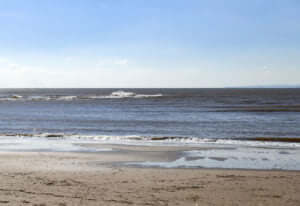 Exmouth Beach
Another local beach, just across the estuary from Dawlish. Exmouth is on the cusp of the Jurassic Coast, known for its mysterious fossils.
Exmouth beach is great for families and has two miles of soft sand with watersports hire available. A short walk will see in you in Exmouth town, with a full range of facilities and places to grab a bite. The front also has some classic seaside attractions, including swan boats, which the kids will love.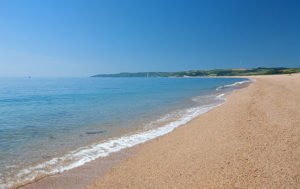 Slapton Sands
This one is ironically named, because it's light shingle. Despite this, it's still one of the most popular beaches in South Devon—just not fit for sandcastles unfortunately. Slapton Sands is in an arced bar, between the sea and a freshwater lake. Not only does it look picturesque, but it's place of special ecological interest.
Here, open water has turned to marshy reed beds, and eventually will become woodland. This is known as ecological succession.
The process above has created a unique habitat, favoured by rare flora and fauna—making Slapton a perfect place for wildlife watching.
Although Slapton is small, you'll find all the facilities you need.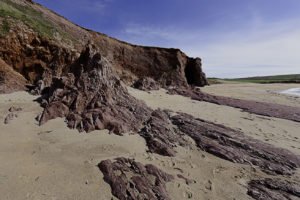 South Milton Sands
With its rock arch peeking from the waters, South Milton Sands is the most recognisable beach in South Devon. This isn't what makes it a go to family beach, that would be the strip of pure golden sand, with seasonal lifeguards and safe swimming.
Plus, it's a haven for marine wildlife—including dolphins and seals. It's very exciting for the kids to spot them, if they're about. Also, at the end of the beach are some rock pools to inspire them. The biodiversity of rock pools is impressive—who knows what they might uncover jetting about in the seaweed.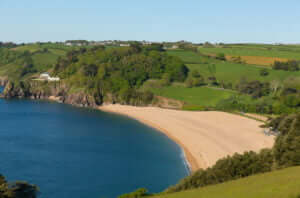 Blackpool Sands
Blackpool Sands is another shingle beach. However, what it lacks in sand it makes up for in prettiness. Enclosed by lush pine scattered hills in a sheltered bay, it's one for the cameras, and a mellow place to while away an afternoon.
Whilst it feels a little off the beaten track, it still offers good facilities—including watersports hire and a beach café shop.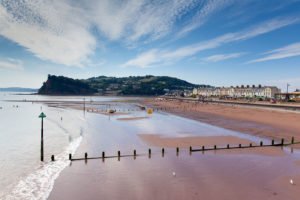 Teignmouth Town Beach
This is true English Riviera. A long sandy beach with one of only 50 remaining Victorian piers in the country—still in full working order with all its amusements. It's the essence of a Great British Seaside holiday.
Because it's so long, even in the height of summer you'll find a quiet patch of sand to yourself where the kids can paddle in the sea. There are also family attractions along the front, including a skatepark, play park, and crazy golf. And of course, ice cream huts.
Teignmouth is one of Devon's gems.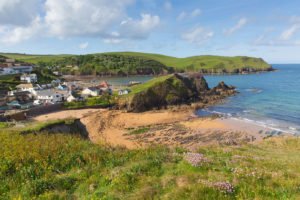 Hope Cove Beach
Easily one of Devon's most wonderful spots. Hope Cove has two sandy beaches, each modestly sized—but family-friendly and part of a little chocolate box village. Hope Cove is in South Devon's wider Area of Outstanding Natural Beauty—and surrounded by rugged cliffs and in summer wildflower flushed headlands.
Here you'll find a restaurant or two, and a coastal trinket shop to keep you busy after reclining on the beach.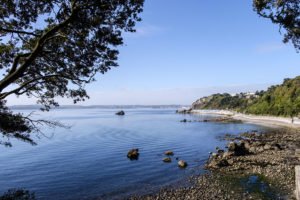 Meadfoot Beach Torquay
Close to Agatha Christies Mile in Torquay, Meadfoot is a calm shingle beach popular with families in Torquay. The view is lovely, looking across the expanse of Torbay beyond Shag Rock towards Brixham.
There's a café at Meadfoot, serving up classic British favourites—but you're only a moderate walk from Torquay town with everything you could possibly want.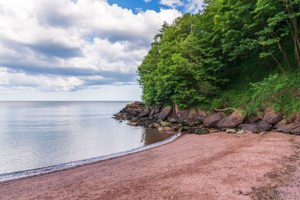 Watcombe Beach Torquay
This is lesser known than Meadfoot, and access is tougher. It's worth it though. Watcombe Beach is like something out of Never Never Land, flanked by steep wooded hillsides—a secret lagoon for your family to explore.
Due to the heavy descent from the car park to the beach café, this isn't recommended for younger kids. Unless you fancy carrying them.
Bantham
Opposite Burgh Island with its Art Deco masterpiece hotel, award-winning Bantham is South Devon's surfer's paradise. It's up there with the best beaches in the country, a huge sandy stretch that often gets big swells. This doesn't mean it's not suitable for kids, the shore at Bantham is so gentle the breaks happen further out. Usually there's a nice distance of kid friendly shallows.
Across the way, nearer Burgh Island is Bigbury-on-Sea. Not quite as imposing a beach, but from here you can take the famous "sea tractor" over to the island—which is mesmerising for kids, as it trundles through the waves.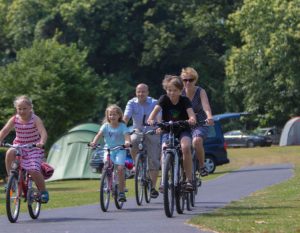 Lady's Mile Holiday Park
Our family run holiday park in Dawlish is perfectly placed to experience all South Devon has to offer, including the brilliant beaches above.
We're dedicated to making sure your holiday is fun, comfortable, and one to remember—for all the right reasons.
If you've enjoyed reading, why not check out our other blogs here.