If there's one thing we Brits love, it's a summer BBQ. We smell someone else's wafting on the breeze and we're scrabbling for the nearest sausages. There's something timeless about a smoky grill, feeling sunburn creep on the neck, and wishing the drinks had been in the fridge longer.
The thing is, we get so excited by the thought of a BBQ we often splurge on expensive food, without paying much attention. "Look, these burgers are the posh ones, and I bought 30. So, if you could eat four that'd be great".
But—with a bit of forethought a BBQ needn't be expensive to be delicious. Here are some tasty BBQ ideas, the whole family will love.
Use chicken thighs not breasts
We've conditioned ourselves to think that breast meat is the only part of a chicken worth eating. Yet we routinely overcook it and get left with a dry, chewy dinner. On a hot day, with the BBQ blazing, no one wants that. Chicken thighs on the other hand, are wonderfully succulent. This is because they're on the bone and still have skin—locking in moisture to the meat. They taste richer too and contain monounsaturated fat which helps lower bad LDL cholesterol.
If that isn't enough, chicken thighs are often cheaper than breasts and go further when cooking for large groups. Try marinating them in some peri peri sauce or mix cumin, paprika, garlic, oregano, and lemon juice—and rub all over. Once the skin is crispy, these will be mouth-watering.
Make your own burgers!
Burgers are the backbone of any good BBQ and you don't have to buy them premade. There's better value in forming your own. All you need is minced beef, chopped onion, and an egg (one per 500g of mince). Avoid lean mince and go for some with a bit of fat (that's where the flavour is). Simply mix the ingredients together and form your patties. Then for an authentic taste brush them with sticky BBQ sauce for one of our classic BBQ ideas.
And if you fancy upgrading your burgers, this is cheap and easy. Why not add some crispy bacon, cheese, and pickles. Finally serve with sliced tomato and fresh iceberg lettuce. It doesn't get much better.
Gourmet hot dogs
Sausages are another BBQ staple and expensive if you go for top quality ones. But this isn't necessary. Even ones with a lower pork content will taste fantastic if you make sure they have lots of trimmings. Try fried onions, sriracha mayo, and of course…cheese. Kids might prefer a condiment without the zing of sriracha sauce. Ketchup, American style mustard, and BBQ sauce will always be firm favourites.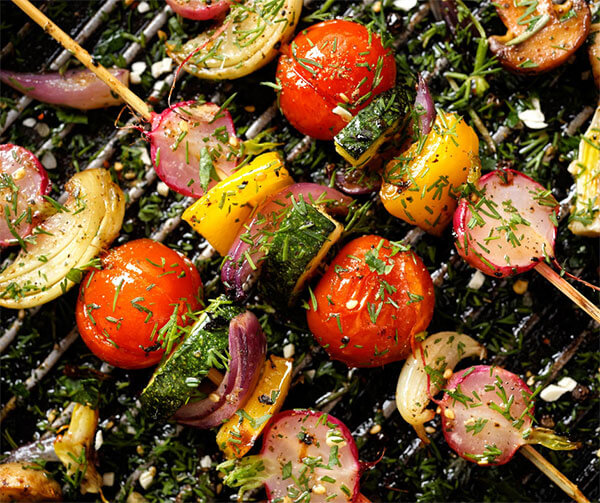 Veggie kebab skewers
Meat eaters, sorry, can sometimes overlook the basic pleasure of grilled veggies. Especially with a plate full of indulgent food, a veggie kebab is a refreshing and healthy addition to any BBQ and one of our favourite BBQ ideas. They're colourful too and really look the part.
Veg that works well includes peppers, courgettes, onions and mushrooms. Cut into chunks and alternate on a skewer, then drizzle with some oil before cooking. The taste of chargrilled veg is irresistible and a perfect way to get your family's five a day (and minimise burger guilt).
Homemade guacamole & tortilla chips
Having side dishes and snacks are a moreish way of bulking up your BBQ spread…and will keep the kids quiet while the burgers are flipping. Guacamole is cheap and takes about two minutes to make.
All you need is a ripe avocado de-stoned and peeled, a squeeze of lemon juice, salt and pepper, and chilli flakes (or not).  Whizz this together in a blender with a large spoon of crème fraîche—this lightens the guacamole and ekes it out. Serve with crunchy tortilla chips or carrot sticks for a tasty BBQ idea.
Simple wholegrain mustard spud salad
Potato salads can be as complex and or as basic as you need them to be. Either way, they're filling and delicious. The simplest way to make a potato salad with wow factor, is to use good quality waxy new potatoes, mayo, crème fraîche, wholegrain mustard, and salt and pepper. As with the guacamole the crème fraîche takes away from the heaviness of using just mayo and the mustard adds a welcome depth to the flavour. Job done.
Pulled pork (a classic)
Slow cooking a shoulder of pork elevates it from a cheap, tough to eat cut of meat into something out of this world. Pulled pork is another family favourite. The secret to great pulled pork is what you rub into it. Brown sugar, cumin, paprika, and salt is a tried and tested mix. Just remember to get going early, or risk having it as a midnight snack.
Serve with slaw and jacket potatoes for a thrifty and filling meal.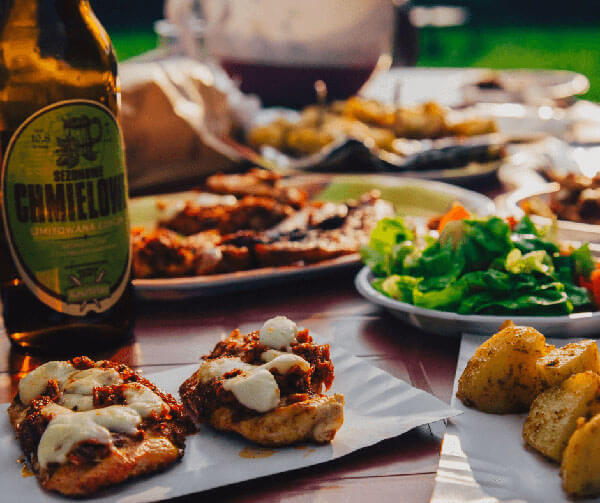 Grilled herby cheese pizza
There's no reason why pizza can't join the party. Very few people dislike pizza. With the smoke and BBQ grease (yes, grease) pizzas taste even better. Cooking them outside and sharing with family and friends is the way the Italians intended. Social and supremely kind on the taste buds, it one of our tastiest BBQ ideas.
The catch is that you can't buy them ready-made. They won't taste or look anywhere near as good. You'll not regret it, because dough is one of the least expensive, and simplest things to make (strong white flour, yeast, salt, olive oil, and water).
Also, the tomato sauce is shamefully simple and takes about 20 minutes. Blend up a tin of chopped tomatoes with salt and pepper (and garlic if you want) and reduce in a frying pan until you have a spreadable puree. Pop this on your pizza base with shredded mozzarella, cheddar, and mixed herbs. The result is pizza so scrumptious you'll not look back.
Baked choc bananas
Now on to desserts. Never was there a more fool proof and delectable BBQ afters. This requires two things: bananas and flakes. That's it. Cut a slit in the bananas with the skin left on and fill with crumbled flake, wrap in tinfoil, then place on the grill until soft and caramelised.
For maximum appreciation, serve with a big scoop of super cold vanilla ice cream or a spoon of yoghurt. You'll be surprised how something so simple can be so lush.
Marshmallow Fondue
Whilst adults may prefer the baked bananas, you can be sure kids will buzz around in excitement over marshmallows. This is as basic as dipping toasted marshmallows in melted chocolate. You don't need a fire either. You can toast marshmallows in a gas BBQ with the lid closed on some tinfoil.
Family fun at Lady's Mile
Here at Lady's Mile Holiday Park we've made it our mission to ensure you have a wonderful holiday. If you've found our BBQ ideas handy, why not check out some of our other useful blogs? From the best family beaches in South Devon, to rainy day activities—we have you covered.